ATR Med is a tool studied, designed and developed to treat painful and traumatic pathologies of the skeletal muscles.
ATR Med uses in an innovative way the interaction between radiofrequencies and biological tissue.
The cell biological mechanisms are stimulated allowing a powerful increase of the natural process of tissue repair and an intense and immediate anti-inflammatory action.
Characteristic high-frequency fluctuating waveforms (RF), with specific range of wavelengths, spread positively in the organism up to the deepest structures (bones, muscles, internal organs).
The presence of specific frequencies in ATR Med allows an immediate and positive interaction with tissues, permitting the quick restoration of our body performance.
ATR Med method stimulates tissues from the inside by acting in the deepest layers, by resolving pain and its causes, reducing therapeutic times and speeding up the functional recovery of tissues.
ATR Med shows important technological innovations making it a reliable, efficient and very powerful tool.
The exclusive characteristics of ATR Med are:
AUTOMATIC CONTROL OF THE ENERGY SUPPLIED
ATR Med is equipped with a system for controlling the energy administered to tissues during the treatment.It is able to settle the most suitable energy power on the base of: tissue impedance variations; conductive interface used during the treatment; size of electrodes; preselected parameters at the beginning of the treatment; capacitive or resistive method adopted.
EFFICIENCY OF TRANSFER AND CALCULATION OF ENERGY ABSORBED
ATR Med is the only device with a patented system allowing to monitor the efficiency of energy transfer during the treatment session.This information is essential because represents the specific power or rather the normalized power according to the volume of the treatment area.Knowing constantly this information means being sure to carry out an effective therapy in respect of the achievable benefit in a specific pathology, envisaging prospective overloads, losses or addiction of tissue.
INTERPRETATION OF IMPEDANCE VARIATIONS
Impedance, simply put, is the measure of the ability of a body to be passed through by the electric current: a low impedance usually suggests a good electrical conductivity, a high impedance means a higher electrical resistance of the tissue.
ATR Med is equipped with an exclusive and patented impedenziometric system of biofeedbacks for evaluating the efficiency of energy transfer to tissues in real time.
This innovation allows energizing tissues in a selective and effective way through a diagnostic evaluation of skin susceptibility and accordingly modulate the use parameters of the machine according to an evaluation of the therapy progress status in terms of therapeutic efficacy and response to the damage solution.
With ATR Med the impedance variations are monitored and real-time displayed in every phase of the treatment.This allows the operator to verify, immediately, not only the initial tissue status, but the whole settlement process during the therapy cycle.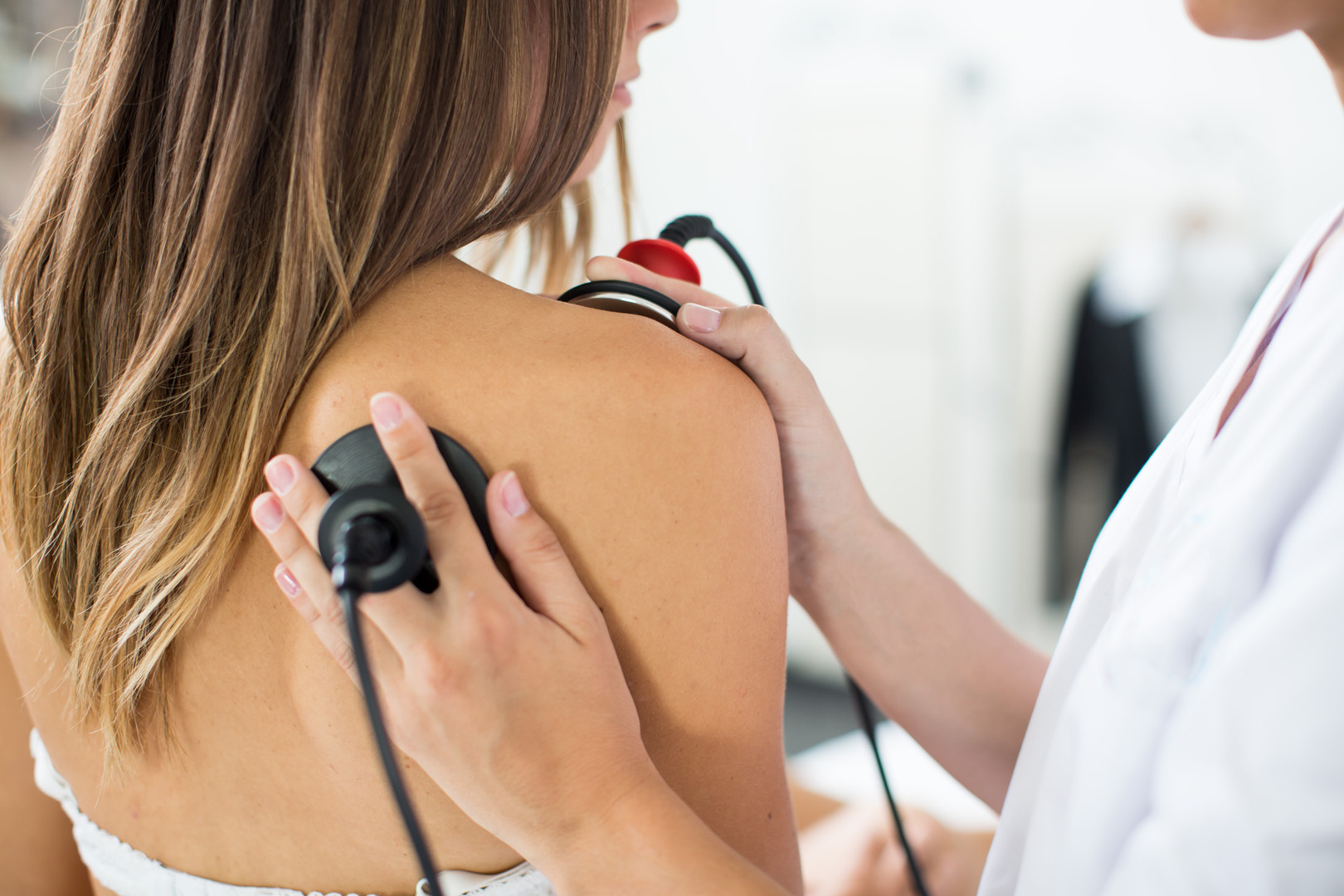 DATA SHEET:
EMISSION FREQUENCY: from 215Hz to 645KHz
OUTPUT POWER 100 OHM (NOT INSULATED):450W AC
MAX. INPUT POWER: 600W
OUTPUT VOLTAGE RESISTIVE ELECTRODE:Max 150V RMS
OUTPUT VOLTAGE CAPACITIVE ELECTRODE:Max 1200V RMS
CAPACITIVE ELECTRODE CAPACITY:200 – 2000pF
EQUIPMENT OF Medical CLASS:II B
CABLES CHARACTERISTICS: 4KV insulation with screens
MULTI-FREQUENCIES
ATR Med is able to generate different frequencies to enhance the effects of therapy.Every essential frequency is indicated with a work programme:
• NRV, where the basic frequency is 215 KHz, leads to a powerful analgesic and anti-inflammatory effect;
• PLUS, where the harmonious frequency is 430 KHz, the effects are predominant in deep skeletal muscle structures.
• EVOLUTION, where the harmonious frequency is 645 KHz, the effects are particularly suitable for more superficial skeletal-muscle structures;
ELECTRODES
The constructive characteristics of electrodes used with ATR Med are patented.
• IN ALUMINIUM | RESISTIVE
Aluminium is a strong acceptor and binds very easily to ions present in the tissue allowing better
performance than the more common stainless steel.
• INSULATED BYCORUNDUM | CAPACITIVE
Corundum has a higher dielectric coefficient than those of materials such as Teflon, pvc or glassceramics.Said
coefficient is so high thata 150-micron layer of corundum is enough to obtain a higher
electrical capacity than that of a 1000-micron layer of other materials.This increases considerably the
electrical connection, having capacities even 100 times higher than standard electrodes with equal
thickness.
METHOD WITH DYNAMIC BI-ACTIVE ELECTRODES
The dynamic bi-active electrodes are an exclusive of ATR Med and allow carrying out particular treatment
manoeuvres without using the fixed neutral.
ADVANTAGES:
• possibility to focus or spread energy just by changing the electrode movements;
• possibility to modulate power just by using the electrode actions;
• bipolar function
DOUBLE NEUTRAL METHOD
With ATR Med a further evolution is represented by the DOUBLE NEUTRAL PLATE METHOD that allows
obtaining:
• ENERGY BALANCE or rather a symmetric provision of radiofrequencies, very useful whether specific body areas, such as back, shall be treated
• EXPANSION OF THE ENERGIZATION AREA by reducing considerablythe treatment time whether wide body areas shall be covered.
• ENERGIZATION UNIFORMITY allowing to keep even the energy provided to tissues including areas far from the neutralposition.
The main operating performance of ATR Med can be attributed to muscle skeletal traumatic pathologies
even if it includes also the following application fields:
• physiotherapy
• rehabilitation
• pain therapy
• sport medicine
• aesthetic medicine
• dermatology
• phlebology